UX Revamp
UI Revamp
Interactive Design
As a product designer at Cheerz my role consisted in refunding the merchandizing section of the product that includes all the pre-customisation flow.
During all my job experience at Cheerz I worked (and keep doing it today) on the user experience of the home page, the catalog page, category pages and the product pages. At this time, I can only share what we did on the home page for both app and web platforms.
This redesign includes both UX changes but also a digital adaptation of the new identity of Cheerz.
👐 Make it easier for new users
to discovers our offer
📱 Open to online purchase
for simple products (then according to AB test results to complex products)
🧬 Deploy our new design system
based on the new graphical identity and test it near our users.
First, we started interviewing our customers to identify strengths and weaknesses of our interfaces on the mobile web and to understand their need.
After few analyses we clearly identify that our users needed :
to be more inspired
to be aware of our new offers, news and product outlet
to find faster a product.
be reassured and keep the friendly relation
🔍 We also learned that about 70% of them bought the same product of their last order and come for a special life event. 


With the collected data, we were able to wireframes some exploration and reflexion ideas of what could answer the best to our analyse.
After many sketches and prototype test on users, we designed new sections and decided to give a structural UX variation : Sequence the home content and the product catalog in dedicated tab bar inputs.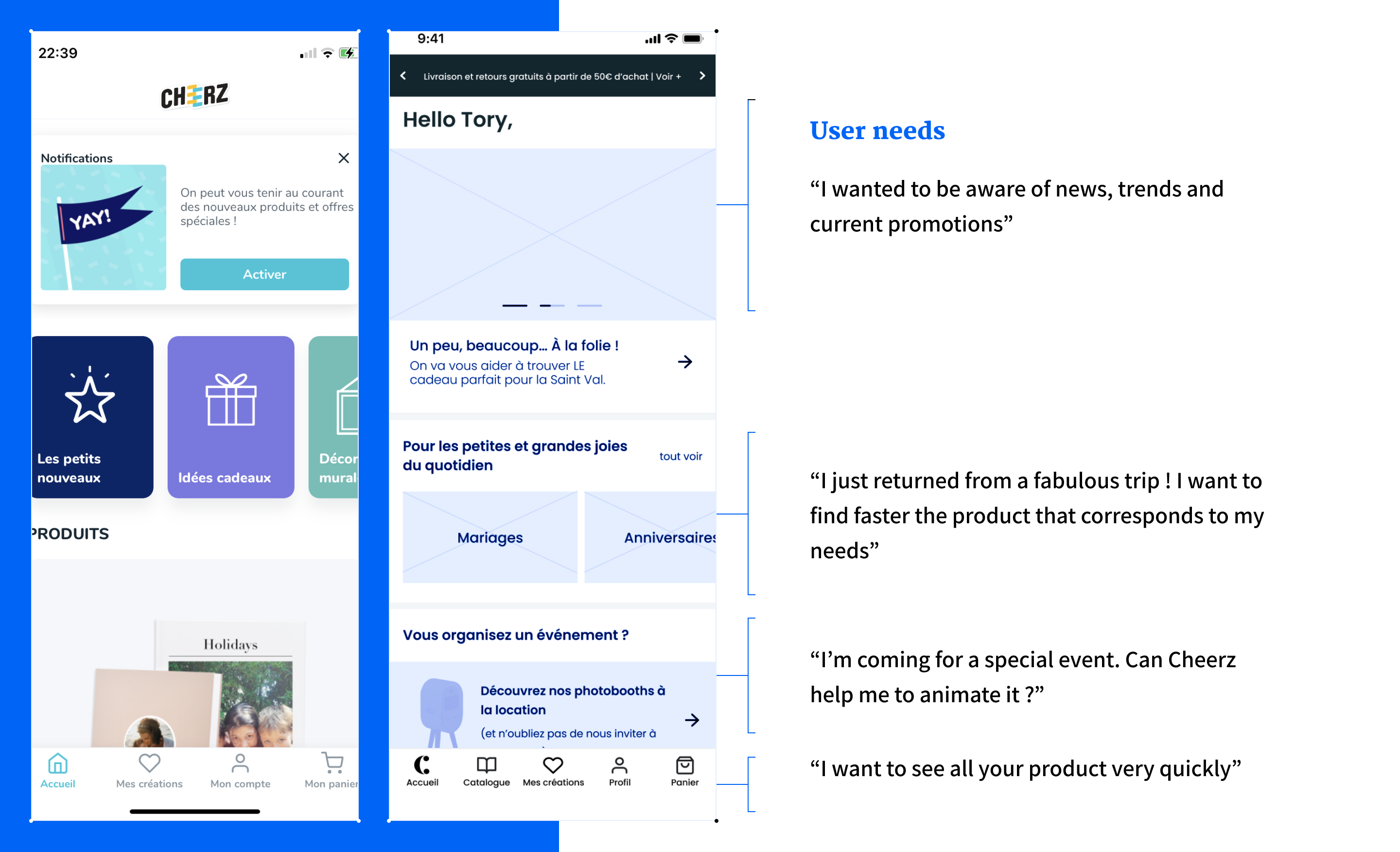 Now, we had to go a head with UI, design system and the new graphical charter. This redesign project were also the opportunity to build our new design system with all new components. I fed a lot our design library and created our new styles.
The product vision was to inspire, immerse our users and humanize our interfaces.
To retranscrive it we designed 3 concepts :
Oblong
Mask
and Kraft

We oriented our product design strategy on scalable components, to have a consistent experience on all platforms and devices